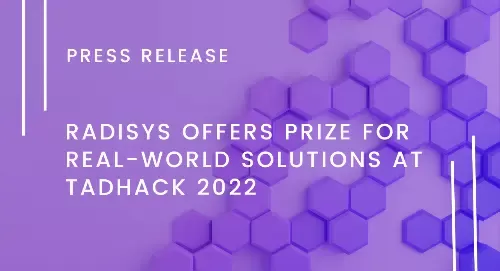 Radisys Sponsors TADHack 2022 and Provides Award-Winning Engage Digital Platform for Developer Competition
Radisys offers prize for real-world solutions at TADHack 2022
HILLSBORO, Ore., U.S. – October 13, 2022 – Radisys® Corporation, a global leader of open telecom solutions, today announced that it is providing its award-winning Engage Digital Platform in sponsorship of the 2022 TADHack, a global hackathon focused on programmable communication solutions. Participants in the TAD, or Telecom Application Development, will utilize telecom APIs and SDKs to create "hacks," a software project that addresses a particular use case or customer need. Radisys' Engage Digital Platform provides developers a complete toolkit to create a full range of communication services, from voice and video calling, speech analytics and robust conversational AI-enabled digital engagement solutions. 
News Highlights
TADHack Global hackathon runs both remotely and across several locations over one weekend from October 15-16, 2022. The hackathon is open to everyone and does not require deep coding experience.
Participants will compete for a pool of $20,000. The best hack created using Radisys' Engage Digital Platform will be awarded an additional $10,000 by Radisys.
Winners of the TADHack will have an opportunity to present their experiences at the Network X event taking place in Amsterdam, October 18-20, 2022.
Previous TADHack projects have included programmable communications (voice, video, messaging), Web3 / Ethereum, internet of things, cloud computing, robotics, machine learning, speech and face recognition, mobile payments, enterprise communications, decentralized web, blockchain, encryption, open source, data analytics and many other technologies.
To join the 2022 TADHack and to experience the power of Radisys' Engage Digital Platform's low code/no code solution, register to participate.
"TADHack is the largest and longest-running series of global hackathons focused on programmable communications and telecoms," said Alan Quayle, Founder, TADHack and TADSummit. "Having products like Radisys' Engage Digital Platform will give the developers access to unique capabilities beyond just basic voice and video calling. I am expecting some great hacks to come out of this year's event."
"The 2022 TADHack Global event is the perfect real-world event to showcase the capabilities of Radisys' Engage Digital Platform's robust developer tools including APIs, mobile SDKs, and visual application design tools that power advanced media analytics capabilities like conversational digital video assistant, biometric authentication, call screening, and live language translation applications," said Al Balasco, Head of Media, Core and Applications Business, Radisys. "I am looking forward to seeing the innovation these teams of developers will deliver and collaborate with them to solve real-world business problems of enterprises and service providers." 
About Radisys
Radisys, a global leader in open telecom solutions, enables service providers to drive disruption with new open architecture business models. Radisys' innovative disaggregated and virtualized enabling technology solutions leverage open reference architectures and standards, combined with open software and hardware to power business transformation for the telecom industry, while its world-class services organization delivers systems integration expertise necessary to solve communications and content providers' complex deployment challenges. For more information, visit www.radisys.com. 
Radisys Engage Digital Platform was named both a 2022 Unified Communications Product of the Year Award winner and a Communications Product of the Year Award winner by TMC, a global, integrated media company covering multiple markets within the communications and technology industries. Engage Digital Platform was also named a "Highly Commended Best Comms Software" by the 2022 Comms Council UK Awards, a celebration of innovation in the telecom industry, and was selected as a finalist in the Best CPaaS Platform Award category by UC Today, a leading online publication for unified communications (UC) and collaboration technology. For more information, visit www.engagedigital.ai. 

Radisys® is a registered trademark of Radisys. All other trademarks are the property of their respective owners.