Engage Media Analytics
Harness the power of programmable audio-video analytics to monetize the 5G & Edge Cloud Investments
An all-in-one platform for real-time analysis of live communication, streaming, and recorded media. Designed to ensure high performance for data-intensive and latency-sensitive applications at the edge.
100s of Built-in Analytics Models Ready to Use
New intelligence added regularly
Bring Your Own Media Analytics Models
Open and expandable solution  with flexibility add your ow media analytics models 
Create Custom Built Analytics Models
Access to developer resources to create customized computer vision models
Face identification & authentication
Emotion recognition
Gender classification
Object detection & classification
People & object counting
Mask detection
Audio detection & classification
Watch how Engage Media Analytics can be easily set up to remotely monitor a factory for any fire incidence and alert the site managers immediately.
Unleash the Monetization Possibilities
with Engage Media Analytics as a Service​
Streamline operations with the power of video analytics
Automate quality checks with computer vision​
Enforce compliance with people count in a facility
Strengthen security & safety powered by automations
Monitor traffic to enhance road safety in Smart Cities
Secure your premise from intruders with predictive surveillance​
Detect potential fire hazards and alert authorities​
Save lives with gunshot detection and automatic alerts
Uncover hidden emotions with sentiment analysis
Assess customer sentiment at the long check out lines​
Assess customer response to new products in the store
Proactively respond to customer sentiments on customer support calls
Create immersive communication experiences
Add dynamic overlays on videos in AR applications​
Analyze engagement indices, authenticate attendees, detect hands raised, count attendance, and more with integrated video analytics and video collaboration
Drag & Drop Widgets to Create Customized Experiences in 3 Easy Steps
Use the tools that best suit your style and skills – Visual Design Tool, APIs, SDKs

WHY ENGAGE MEDIA ANALYTICS?​
Your force multiplier to accelerate Industry 4.0 innovation on the fixed broadband and 5G public/private networks
Faster Monetization
A production-ready solution for generating revenue
Integratable​
Quick and easy integration with telecom networks
All-in-One​
Supports audio and video analytics of live and recorded media
Scalable​
Built to meet telco scale with cloud-based agility
Flexible Deployment​
Host in the cloud, at the edge cloud, or on-premises
Multi-access​
Available on web-based, PSTN and in-call experiences
Lower Cost of Ownership​
Over 70% lower than cloud solutions
Open & Expandable ​
Flexibility to customize analytics models and actions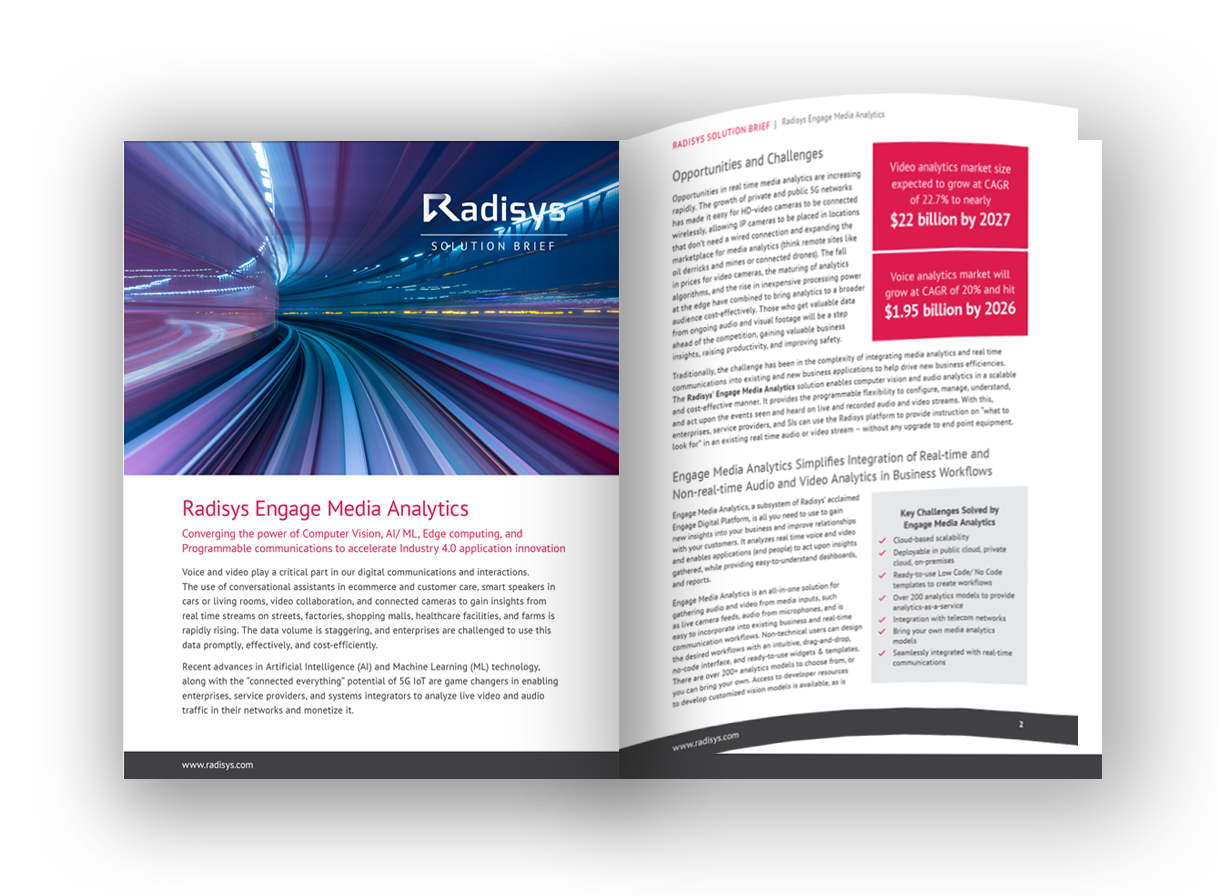 Learn how Engage Media Analytics converge the power of Computer Vision, AI/ ML, Programmable Communications, and Edge computing to accelerate Industry 4.0 application innovation