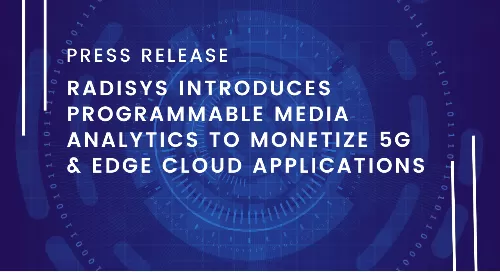 Radisys Introduces Programmable Media Analytics to Monetize 5G & Edge Cloud Applications
Eliminates complexities of developing Industry 4.0 applications through low-code/no-code tools
HILLSBORO, OR, U.S. – February 23, 2023 – Radisys® Corporation, a global leader of open telecom solutions, today announced the addition of Engage Media Analytics within the acclaimed Engage Digital Platform (EDP). Engage Media Analytics is a comprehensive solution that provides Communication Service Providers (CSPs), System Integrators, and Enterprises with cost-effective low-code/no-code visual design tools to create Industry 4.0 applications with new AI-powered audio analytics and computer vision capabilities. 
Engage Media Analytics' application possibilities include notifying medical personnel when a patient in a wheelchair needs assistance or an elderly at-home patient has fallen from the bed; or identifying critical keywords or background sounds on an emergency call to augment the live agent discussion and help make life-saving decisions; detecting a fire in a factory, campus building or other location and alerting emergency services personnel; monitoring retail shelves and combing customer identification, location, and live video to send money saving coupons to a frequent shopper's phone as they near a location with promotional items, and many other Industry 4.0 services.
The Engage Media Analytics solution offers a unique combination of capabilities:
Off-the-shelf models including people and object counting, object and sound detection and classification, and biometric authentication. Engage Media Analytics also supports model customization and new model creation.
Ability to create trigger actions based on insights derived from the media stream whether through other communication capabilities in the EDP including voice and video calling, creating an on-the-fly conference, sending alerts, and recording as well as interworking with external systems for initiating business processes in enterprise workflow tools.
Distributed deployment of services spanning public and private clouds, network edge infrastructure, and on enterprise premises, enabling applications that demand low latency, cost and bandwidth-efficient network utilization for local breakout, and ensuring data privacy and security.
Alan Quayle, Founder TADHack, TADSummit, said: "The programmable communications industry (CPaaS) is evolving from a focus on connectivity, to understanding the content of communications through programmable media analytics. Actionable intelligence and compliance are important in delivering innovative new services. The all-in-one Engage Digital Platform delivers AI-based actionable intelligence that enables service providers to deliver business efficiencies for their customers' mission-critical applications."
Radisys' Engage Media Analytics can be deployed on distributed edge cloud and integrates with public or private 4G/5G RAN and core network functions such as Network Exposure Function (NEF), abstracting complexities for application developers to productize Industry 4.0 applications quickly and cost-effectively. 
Al Balasco, Head of Media and Application Solutions, Radisys, said: "The convergence and simultaneous maturity of multiple technologies like AI-based computer vision, 5G, edge cloud, and programmable communications opens new opportunities for service providers and system integrators to collaborate with enterprises in their digital transformation. Engage Media Analytics lets service providers combine the advantages of the bandwidth, low latency, Internet of Things (IoT) connectivity, and edge cloud resources to monetize public and private 5G networks and deliver customized solutions like predictive surveillance in smart cities, remote monitoring of enterprise campuses, business workflow automation for product quality assurance, traffic monitoring, and more."  
About Radisys
Radisys, a global leader in open telecom solutions, enables service providers to drive disruption with new open architecture business models. Radisys' innovative disaggregated and virtualized enabling technology solutions leverage open reference architectures and standards, combined with open software and hardware to power business transformation for the telecom industry, while its world-class services organization delivers systems integration expertise necessary to solve communications and content providers' complex deployment challenges. For more information, visit www.radisys.com. 
Radisys' Engage Digital Platform is an award-winning programmable communications platform. Radisys' capacity-based versus consumption-based licensing approach for all products in the Engage Digital Platform offers a truly disruptive economic model relative to alternative programmable communications solutions. It dramatically improves the total cost of ownership (TCO) savings to 70% and greater over competitive cloud-based programmable communications and video analytics solutions, allowing service providers to reap the benefits.
For more information, visit www.engagedigital.ai. 
Radisys® is a registered trademark of Radisys. All other trademarks are the property of their respective owners.