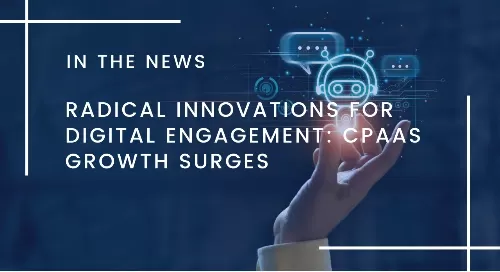 Radical Innovations for Digital Engagement: CPaaS Growth Surges
The rapid rise of digital transformation has revolutionized the business world, as enterprises now have the potential to improve and optimize both their daily processes and their customer engagement.
Engagement levels have become a critical piece of the puzzle for businesses, and not simply with its consumers, but with its employees as well. On a consumer level, companies that successfully engage their B2B customers to realize 63 percent lower customer attrition, while also achieving a 55 percent higher share of wallet, and 50 percent higher productivity.
Earlier this year, Radisys, a global leader in open telecom solutions based in the U.S., and part of the Reliance Industries family, introduced a radically different CPaaS offering with programmable communications beyond voice and messaging.
The Radisys Engage Digital Platform (EDP) also includes conversational AI, computer vision, and social engagement. It is designed to make real-time voice and video analytics easy for service providers, technology companies, as well as enterprises who wish to build immersive digital experiences. 
"We enable service providers to become digital experience providers through open and disaggregated platforms and solutions," said Al Balasco, Head of Media, Core, and Applications, Radisys. "Our end-to-end portfolio spans from digital endpoints to open disaggregated access and core solutions, to immersive digital applications and engagement platforms, and our media processing capabilities help make those experiences visually rich and creative at the edge, including the fast-growing 5G edge."
The CPaaS market is positioned for massive growth, according to a study from Juniper Research predicts that, worldwide, the CPaaS industry will be worth more than $34bn by 2026.
"The real growth driver for CPaaS is the mandate for organizations to deliver intuitive, engaging, and productive experiences to their customers," Balasco said. "CPaaS with speech and video analytics completely changes the game in the Customer Experience (CX) space. With the ubiquity of cloud technology, and the adoption of cloud-based real-time collaboration and unified communication, the natural next step is leveraging the confluence of cloud and now superfast fixed and wireless broadband speeds to deliver fast, friendly, and fun interactions whether a customer has a question about a product, or a machine needs to alert another machine to take action. The vertical applications, especially as mobile devices become even more powerful, and networks more flexible in a wireless-first world, are endless."
Regarding CX, according to research from IDC (News - Alert), nearly 80% of enterprises are turning to customer engagement platforms and more than half of these will be using CPaaS technology. This is fueling the growth of CPaaS innovation, and according to Balasco.
"Brands especially are turning to managed service providers and system integrators to build completely unique interactive experiences," he said. "They need a flexible digital engagement platform, like EDP, to tap into APIs, SDKs, and a range of packed voice, video, analytics apps, and more to generate a competitive advantage with cool and convenient conversations."
But, the technology on its own is in second place to the need to become hyper-responsive. Companies must be more responsive to the customer, and provide the more efficient, hyper-personalized contextual experiences their customers want most.
"We set out to build our CPaaS platform by making it simple for developers and business owners to use, on the one hand, and exciting for their audience to enjoy," Balasco said. "From integration of the many technologies necessary to deliver omnichannel interactions consistently and cost-effectively to providing advanced capabilities, including real-time language translation and very human-like video bots, our goal is to empower service providers with new revenue streams. For those organizations that demand guaranteed quality of service – for example, healthcare companies rolling out telemedicine services – having powerful, underlying media processing capabilities is key."
Balasco also explained that keeping communications "in flow" with the ability to pass from one channel to the next without dropping the session has major advantages. "Our research showed early on that the ability to maintain an intelligent interaction, depending on what the customer or patient or even employee's preferences would win the day. We are so far beyond those painful contact center queues and the expectation for immediate gratification keeps driving the stakes higher. If a customer of a healthcare insurance company, for example, starts the conversation online with a virtual assistant, then wishes to switch to a live agent, we can now do that seamlessly without losing any conversation context."
By leveraging natural language-based conversational artificial intelligence (AI), businesses can immediately provide information without the need for the user to have to search for the right answer or find the right expert if a live human is necessary.
"This is a radical shift, and enterprises and organizations, including government agencies who wait too long to build and deliver smarter digital experiences, will falter," Balasco said. "The pandemic drove many leaders to find more efficient ways to communicate and serve, in a world where consumers, patients, employees, residents in smart cities, and travelers who are constantly on the move and living on their mobile devices value the experience more than the products and services themselves. We all feel better when we feel heard when our questions are answered quickly when our concerns are addressed, and when the conversation is pleasant – whether with a live human or human-like avatar."
"Off-the-shelf software for standard chatbots is no longer enough," Balasco said. "When developers can use visual design tools to create their own unique video bot experiences without having to be a programmer – when they can empower experience designers to use low code and no code solutions served up on a CPaaS, there is no limit to what they can do to outdo the competition.
The IDC study shows nearly four-fifths of enterprises are set to implement conversational customer engagement to improve customer experience with CPaaS key to enabling digital transformation.
At the same time, only 22% of companies use more than three channels for conversational engagement, the IDC study says.
"We are still early in the cycle, but growth is surging," Balasco explained. "Slightly more than one-third of organizations allow their customers to transfer from a chatbot to a live agent for expert support, and the two thirds who are still conducting business the old-fashioned way are not only not giving the best experience, but are wasting time and money by treating every inbound inquiry equally."
Balasco also said the innovation is going to become even more interesting at the intersection of human and machine communications. "Consider the value that can be created when a heart monitor in a patient's home can 'ring' the cardiologist based on the data generated by that sensor. We can eliminate so much friction in the system, and even save lives. Radisys' vision is to apply over 20 years of network and media processing expertise to help our customers exploit those assets to create unique applications that serve their customers' exact requirements and lead to great and profitable outcomes."
The Radisys Engage Digital Platform is available via a cloud model and in public and private data centers and includes self-service video bots, predictive video surveillance, a virtual assistant for video conference calls, and AR/VR applications, along with higher quality voice services, speech analytics, computer vision applications, and live language translation.