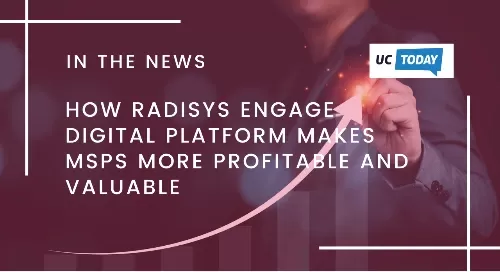 How Radisys Engage Digital Platform Makes MSPs More Profitable and Valuable
What's worse than selling petrol?  
Selling SIP trunks and UC lines.   
Like petrol, margins are wafer thin. Unlike petrol, prices are declining FAST. 
Luckily, if you're a Managed Service Provider (MSP) selling commoditised voice, video and messaging services, you can now embed value-added features into your customers' apps.  
Examples are biometrics or in-app calling for your customers' sales team, with automatic call recording and transcription.  
But building these functions requires expense. Partnering with communications tool providers is only marginally profitable. 
So that's why, if you're an MSP, you should know about Radisys.  
Competitive Pressures on MSPs
Telecom was commercially delightful once. 
No surprise that the world's richest man was telecom entrepreneur Carlos Slim, prior to VoIP. 
If customers didn't pay their bills, they were cut off. Their businesses wouldn't exist. Long contracts protected revenues, which recurred.  
Now with communications in the Cloud and 1 month rolling contracts, customers can switch to another provider easily. Competition is fierce. Features are commoditised. 
Some MSPs develop their own inhouse tech, so they can bundle more compelling services with voice.  
But for most, that defocuses their business.  
Others turn to communications platform tool vendors. But that means small margins. Their business can't scale. 
Embedding Valuable Automated Voice and Video into Customers Apps
There's a third option: white-labelling Radisys' Engage Digital Platform.  
It's a white-labelled, programmable communications platform. It allows MSPs to excite their customers with advanced app-embedded voice and video features.  
For example MSPs can embed:  
Tele-health services into their end-customers' portals. Their patients can then seamlessly access voice and video conferencing. 
Biometric voice or facial recognition capabilities into health and finance businesses' apps, so their customers can log in securely, yet conveniently.  
"Click-2-Call" buttons into customers' mobile apps or websites. 
There are many possibilities.  
MSPs have developer friendly APIs and SDKs. The interface is visual. MSPs, or their contact centre or UC customers, can develop, test, and iterate embedded applications fast. 
Unlike programmable communications tools, MSPs can easily integrate a wide range of different services and technologies.
Exponential Profit Opportunity by Embedding
Crucially, Radisys offers a fixed cost licensing model. Profits can rise exponentially, helping MSP business owners to invest more in marketing. 
Radisys means: 
Fatter margins (50%-70%) 
Profits can rise exponentially 
So MSP owners can raise more capital – or sell their businesses more easily. 
As Al Balasco, Radisys Head of Media, Core and Applications Business explains "We empower our partners' brands. They control their branding and customer pricing. We also have a very unique MSP pricing model. Our competitors charge by API consumption, or the consumption by the number of users. We don't. We charge one license per port. MSPs can have as many users per license as they want. So they can grow profits faster." 
It looks as though Radisys' MSP partners can build valuable businesses. Unlike those selling petrol-like voice, video and messaging services.  
Click here for more information about Radisys' Engage Digital Platform.